As a Club Yogi Rewards member, you will earn Club Points each time you stay at any of the 75 Jellystone Park™ locations in the U.S. and Canada. Members earn 5 Club Points for each dollar spent on tent sites, RV sites, rentals and other qualified purchases within a Jellystone Park™ and you'll have access to special member-only benefits.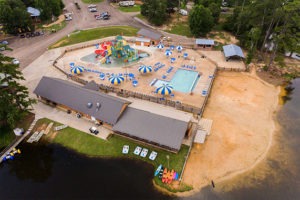 Club Points will accumulate in your account until you are ready to redeem for FREE nights.
If you aren't a member, join Club Yogi Rewards today and start earning points.
If you are camping or making a reservation, but have not yet received a Club Yogi Rewards membership card, that is OK. When you check-in at the Park, just let the front desk staff know you are a Club Yogi Rewards member. They will be able to look up your member number to ensure you get points for your stay.
Please Note: Guests redeeming a FREE night are still responsible for the 'per person' fees.
FREE night voucher can only be used for Lodging or Campsites.
Club Yogi Tier A
Club Yogi Tier B
Club Yogi Tier F
Club Yogi Tier I
Once you've accumulated enough points for your desired Tier, follow these steps to redeem:
Make a reservation at Yogi on the Lake and be sure to request an accommodation that matches the Tier you want to redeem. (Each location offers different campsites and cabins, so check your favorite park's website for available accommodation Tiers.)
Log onto your account. Click on the Tier you want to redeem and hit Submit.
Your certificate will pop up from the website.
Print the certificate and present it when you register at Yogi on the Lake. Note: In order to receive your Free night, the certificate must be presented at check-in.
---
Tier Assignments
M,T,W,Th,F,S,Su
Campsite Type Name
5/27/22
5/30/22
7/1/22
7/5/22
9/2/22
9/5/22
9/30/22
10/2/22
10/7/22
10/9/22
10/14/22
10/16/22
10/21/22
10/23/22
10/28/22
10/30/22
1/1/22
12/31/22
Lakeside Lodge (PF)
I
I
I
I
I
I
I
I
I
Waterfront Yogi Bear Cabin
I
I
I
I
I
I
I
I
H
Ranger Smith Cabin
G
G
G
G
G
G
G
G
G
Ranger Smith Cabin (PF)
G
G
G
G
G
G
G
G
G
Ranger Cabin (ADA)
G
G
G
G
G
G
G
G
G
Premium RV Site (PF)
E
E
E
E
E
E
E
E
D
Off-Water Gravel RV Site (PF)
B
B
B
B
B
B
B
B
A
Waterfront Gravel (PF)
D
D
D
D
D
D
D
D
C
Tent Site (PF)
A
A
A
A
A
A
A
A
A
Boo Boo Cabin (PF)
F
F
F
F
F
F
F
F
E
Cindy Bear Cabin (ADA)
F
F
F
F
F
F
F
F
F
Deluxe Yogi Bear Cabin
H
H
H
H
H
H
H
H
G
Off-Water Yogi Bear Cabin
H
H
H
H
H
H
H
H
G
Waterfront Yogi Bear Cabin (PF)
I
I
I
I
I
I
I
I
H
Off-Water Yogi Bear Cabin (PF)
H
H
H
H
H
H
H
H
G
Boo Boo Cabin
F
F
F
F
F
F
F
F
E
Yogi Bear Pavilion
Cindy Bear Pavilion
Boo Boo Pavilion
Yogi Bear Clubhouse
Party Room
Off-Lake Deluxe Site with Fenced in Pet Area (PF)
B
B
B
B
B
B
B
B
A
Waterfront Deluxe Site with Fenced in Pet Area (PF)
E
E
D
D
D
D
D
D
D
Great Escape Park Model (PF)
I
I
I
I
I
I
I
I
H
---