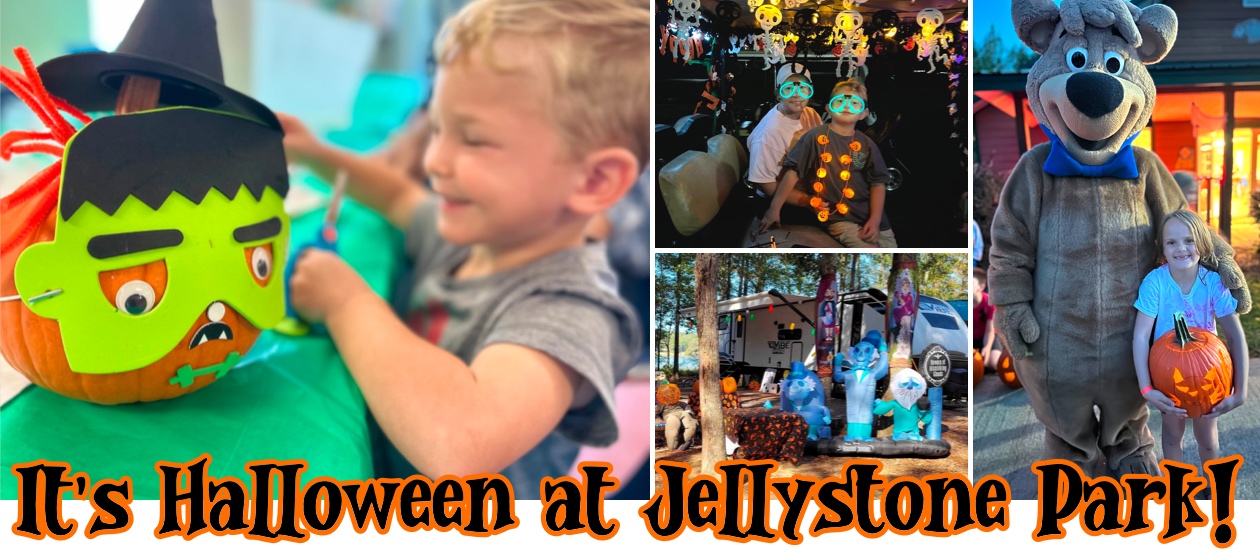 It's Halloween at Jellystone Park! Activities will include loads of fun and plenty of scares! Join us for arts, crafts, activities, pumpkin carving, costume contests, and a campsite/cabin decorating contest! Our campers are known for competitive decorating, outdoor cooking, and having a good time. Prizes awarded for first through fifth place in campsite/cabin contests. Don't forget candy for the trick or treaters (approx. 450-500 kids)!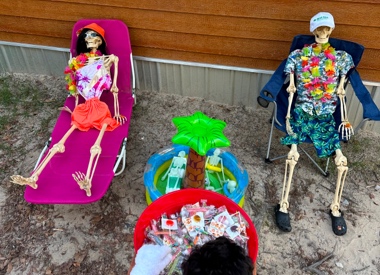 Attractions:
Magical Pumpkin Patch
Haunted Trail
– Guests: 1 ticket at no cost for each person on your reservation.
– Non Guests: $10 per person (We do not refund for the whims of Mother Nature.)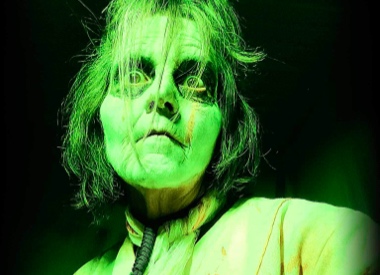 Kid Friendly:
Not particularly kid friendly. However, we have a Glow Ghost Ride on Friday evenings at 8:30pm, Trick or Treating in the Park every Saturday beginning at 5pm, a "Not so Haunted" Kiddie Trail, and a variety of fun activities for the little Boos.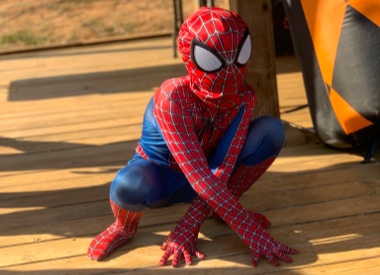 Costume Contests:
Pet, individual, group, and golf cart contests.
For each category:
1st Place – $25 gc and a trophy
2nd Place – $20 gc and a medal
3rd Place – $15 gc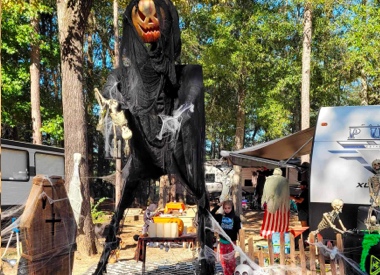 Cabin and RV site decorating contest
We combine cabins, RVs, and tents. The top 5 win free night stays.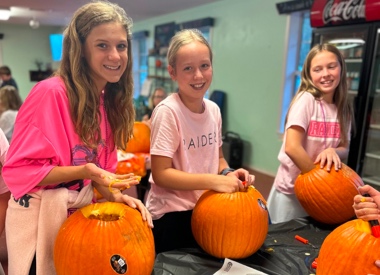 Additional activities:
We will have a pumpkin carving contest every Friday night at 6pm in the Activity Center. We will have carnival games, Interactive Scary Stories, Witch's Brew Fluffy Slime, Ice Cream Socials, Apple Bobbing with a Twist, Trick or Treating, Duck Races, Halloween Moment-to-Own-It games, and Halloween parades and more every Saturday in October!
---
Join Us for Some Spooky Fun!
---