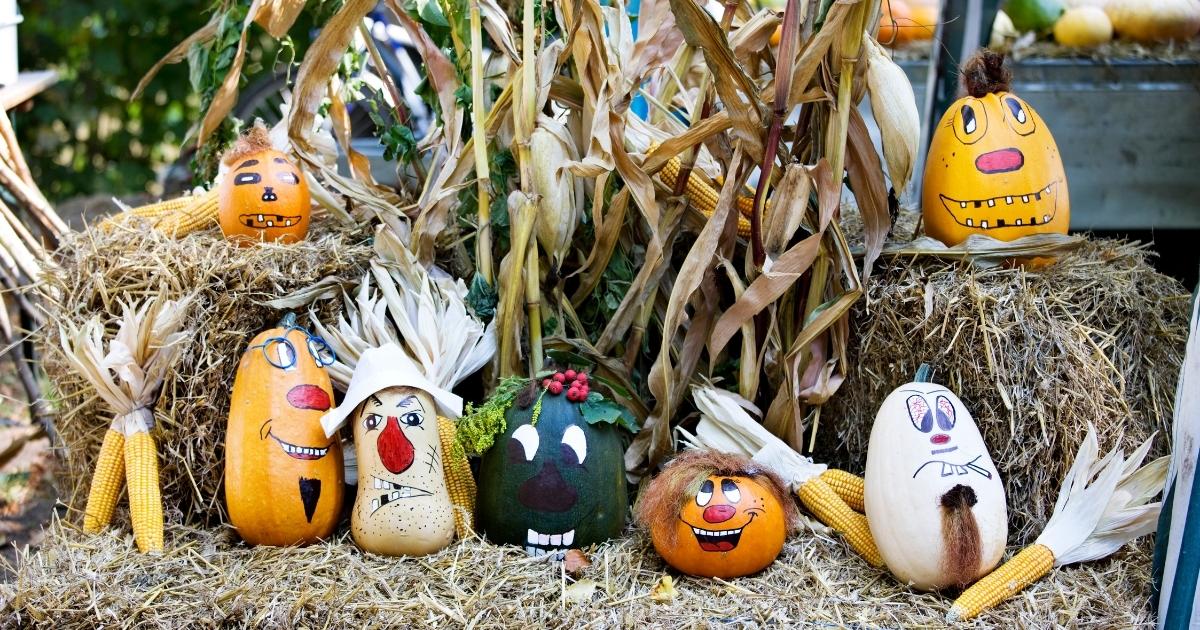 Halloween Spooktacular Weekends have arrived at Jellystone Park™ Pelahatchie! Campers can enjoy 5 full weekends of fang-tastic fun and loads of scares! Along with arts and crafts, games, pumpkin carving, costume contests, and trick-or-treating, campers get into the spirit of the season by bringing their DIY Halloween decorating ideas and competing in the campsite/cabin contest. Prizes are awarded first-fifth place for best-decorated sites.
Need some ideas on spiffing up your spot? Try some of these decorating ideas. Better yet, get the whole family to pitch in!
DIY Halloween Decorating Ideas
Hang a Simple Halloween Banner
Use fabric or construction paper and cut out shapes like bats, pumpkins, ghosts, candy corn, or other Halloween symbols. Use mini clothespins to keep them in place on a piece of twine and hang them from your RV awning, tent, or cabin porch.
Place Skeletons Everywhere
There are no bones about it! Skeletons make some of the easiest and best DIY Halloween decorating ideas! Plastic skeletons can be placed anywhere around your campsite or cabin, in all sorts of positions like:
Sitting in a camping chair
Waving at passersby
Holding a spatula in front of your grill
You name it!
Set Out a Creepy Picnic Table Centerpiece
After covering your site's picnic table with a festive tablecloth, set a plastic vase of fake black roses in the center. Spruce up your bouquet with glow-in-the-dark plastic spiders or eyeball lollipops sticking out between the peddles.
Display a Sweet Wreath
For this sweet project, you'll need a styrofoam wreath, duct tape, a hot glue gun, a ribbon, and Halloween candy. First, wrap the wreath in tape, then use your hot glue gun to completely cover your wreath in candy. You can use any sweets, from candy corn to mini (still wrapped) M&Ms, Snickers, and Kit Kats. Tie a Halloween-themed bow around it once dry and hang it on your RV or cabin door.
Arrange Clever Witch Hats
Line your campsite or cabin with witch hats fashioned from traffic cones. Simply spray paint plastic traffic cones black, then add buckles cut from self-adhesive glitter sticker paper.
Decorate Pumpkins Without Carving Them
Carving out a jack-o-lantern isn't the only way to decorate a pumpkin. If you bring pumpkins to decorate your site, you can add a bit of personality by wrapping them in:
Gauze, creating mummy pumpkins.
String lights.
White yarn, creating a web pattern and adding spiders.
Apply Spooky Window Decals
Decorate your RV or cabin windows with Halloween-themed decals. They're easy to stick on and peel off and come in a variety of spooky shapes and images.
Join All the Halloween Spooktacular Weekend Activities
Pumpkin carvings, costumes galore, arts & crafts, decorating contests, and more! Halloween Spooktacular Weekends are some of the best camping experiences at Jellystone Park™ Pelahatchie. Don't miss out on your chance to be a part of all the fun and scares! Pack your costumes and bring your DIY Halloween decorating ideas! And be sure to have lots of candy to pass out to all the trick-or-treaters.
Enjoy The Ghoul Times at Jellystone Park™ Pelahatchie!
Book A Spooktacular Getaway Today!