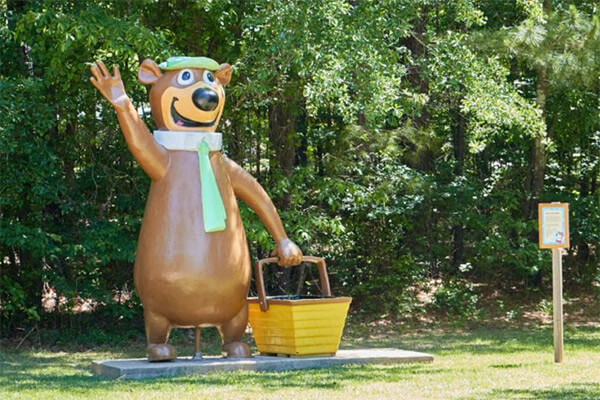 It's summertime at Yogi-On-The-Lake and just right for a family picnic (or pic-a-nic, as Yogi would say) under the trees.
So, pack your basket and set out for your favorite spot at the Sandy Beach, but WATCH OUT! Yogi Bear is a notorious picnic thief whose most famous line is "Hey Boo-Boo, let's go get us a pic-a-nic basket"!
Ranger Smith can't be everywhere, you know. Yogi and Boo-Boo could pop out from behind any bush and snatch your lunch before you know it!
What's In The Basket
Play with your food and pack family-friendly fun fare like…
Special picnic tablecloth*
Hard boiled eggs
String Cheese & Easy Cheese
Fun sandwiches (Pro Tip: Cut the crusts off)
Seasonal fruits
Peanut butter-banana caterpillars (Recipe at Food.com)
Flavored or plain bottled water (Pro tip: Freeze the bottles first, by the time you get to your picnic site, they will have thawed but still be ice cold)
Grown-up drinks (Don't forget the bottle opener!)
After Lunch Fun & What Does * Mean?
Twister – You know kids like to play games, so being the clever Mama Bear & Papa Bear that you are, you have invented a special picnic tablecloth* for this exact occasion. One side looks like a regular tablecloth. You know this because you've just eaten lunch and squirted everybody with Easy Cheese.
The other side, though, is your genius invention – you can make your own Twister game by painting colorful circles. Make it as big as you like to accommodate as many kids as necessary. Have a grown-up drink while the kids are Twisting.
A Tisket, A Tasket – Use a paper napkin to play this game. Just like Drop-the-Handkerchief, but sung to the tune and lyrics of Ella Fitzgerald's jazz hit.
Let's Clean Up Game – Uh-Oh! Here come Yogi and Boo Boo to steal the leftovers! Everybody grab everything and put it all back in the basket.
Are you ready for a family pic-a-nic at Jellystone Park in Pelahatchie, Mississippi? Yogi Bear says, "Call us today at (601) 854-6621 to book your stay. Or click here and do it all online." Be sure to book early as cabins are full every weekend in June right now. Think about a mid-week stay. Enjoy the same great amenities and activities with fewer people!