After Dark Halloween Camping Games
Can't get enough of Halloween? Neither can we! At Jellystone Park™ Pelahatchie, we celebrate the holiday throughout October with our Halloween Spooktacular Weekends! After fun-filled, action-packed days of arts and crafts, pumpkin carvings, trick or treating, and contests, celebrate even more with the kiddos when the sun goes down with these after dark Halloween camping games. They're a great way to wrap up an adventurous day and safe to play in the dark at your campsite or cabin.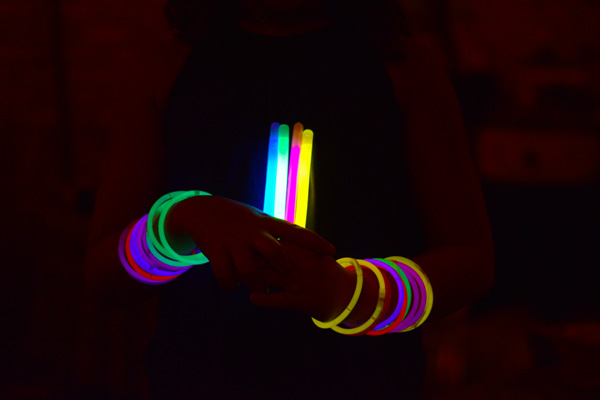 Try These After Dark Halloween Camping Games with the Kiddos
Flashlight Limbo
Let the kids limber up at the end of the day with Flashlight Limbo! Best played with five or more, this game requires two flashlights and either a dark cabin room or clear space on your campsite.
To set up the game, two people stand about four or five feet away from each other with flashlights on. The flashlights should be even with each other, making a straight line.
Players walk under the beam beginning at about shoulder height. If the light touches any player as they go under, they are out. Then, the beam is lowered just like regular limbo until only one person is left in the game.
Glow In The Dark Charades
Prepare ahead of time for this game by collecting an assortment of glow-in-the-dark accessories, including glowing batons, neon headbands, glow sticks, glow bracelets, glow necklaces, and more. Activate each before throwing them into a large box for the kiddos to rummage through.
Participants take turns reaching into the box and using these accessories to act out an activity such as juggling or bowling. The others try to guess what activity is being performed.
Touch and Tell If You Dare
At least one game has to be in total darkness. You are playing after dark Halloween camping games, of course. Make everyday items into gruesome body parts with this game that incorporates the senses of touch and curiosity…and, for some, courage!
Preparation for this questionable 'body parts' game includes gathering various items like grapes, cold spaghetti, almond slices, carrot sticks, tortillas, water, and a wet sponge. Place each in separate bowls. These items will represent a different body part: grapes work for eyes, cold spaghetti for guts, almonds can be fingernails, carrot sticks can be fingers, tortillas can be skin, water can be blood, and a wet sponge can be brains, etc.
Either in your pitch-black cabin room or sitting around the picnic table in total darkness, pass each bowl around to participants to guess what "body part" they are feeling. (Suggestion: If it's not dark enough, consider using blindfolds.)
For a scarier, creepy-crawly experience, make up a story to go along with the items!
Halloween Happens Only Once A Year…
But at Jellystone Park™ Pelahatchie, we've extended it to five weekends. So get your fill of Spooktacular Halloween celebrations and after dark Halloween camping games when you stay with us this October!
Don't Miss Out on the Spooktacular Surprises!