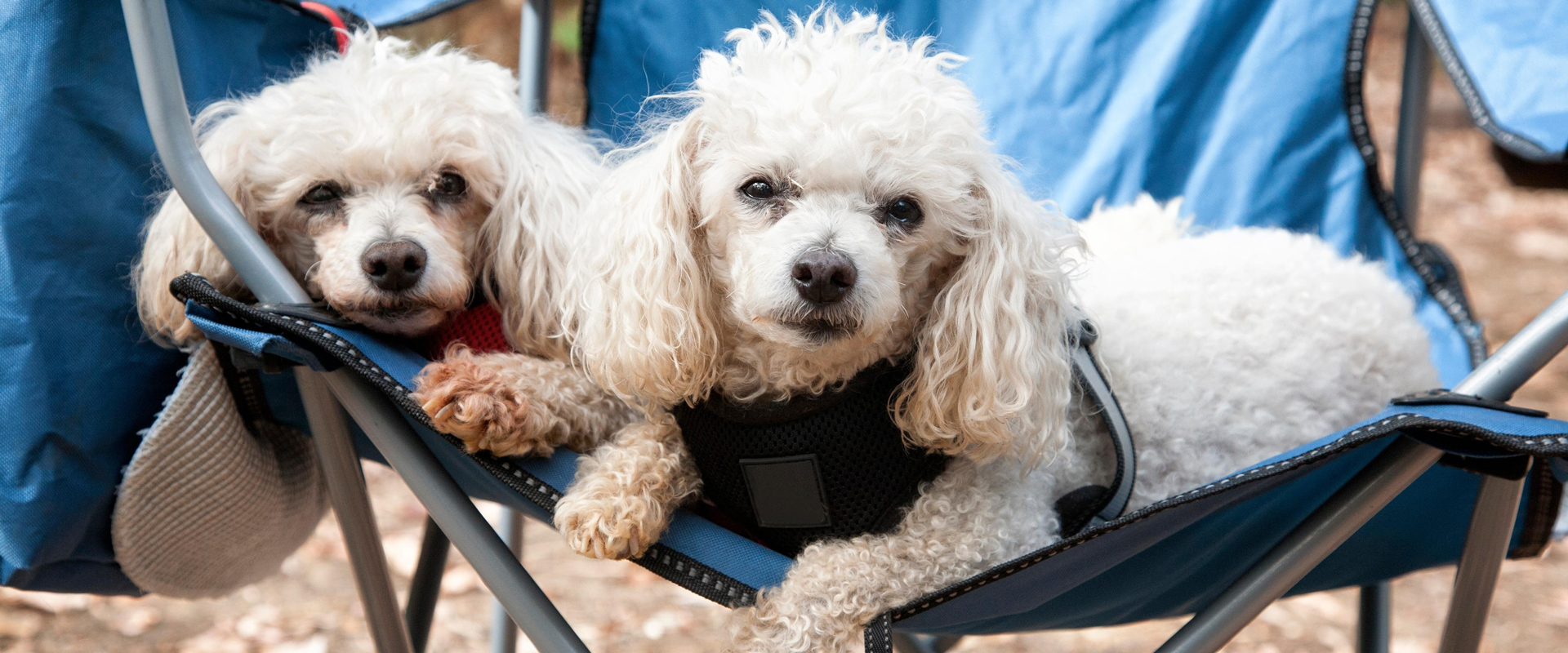 Camping with Dogs
Camping is extra special when Fido gets to come along for the outdoor excitement! At Jellystone Park™ Pelahatchie, we welcome pets to camp with the family in our RV sites and pet-friendly cabins. Our camp-resort is a playground for pooches to explore through the woods and along the lake. If you and the family are new to camping with dogs, the following tips can help you and your pup get ready for a successful camping getaway together!
Tips For Camping With Dogs
Tip #1: Visit the vet
First things first! Get the vet's OK on Fido's camping trip. Be sure your pup is up to date on all vaccines and medications, like tick and flea preventative meds. These are their first line of defense against diseases. Don't leave empty-handed from the vet. Ask for a copy of the records and keep them on hand whenever you go camping.
Tip #2: Brush up on-leash walking skills
If your pooch goes on little if any on-leash walks, this is a great time to practice, maybe even enlist the help of a professional dog trainer! Campgrounds and RV resorts require dogs to be on a leash at all times, save in off-leash dog parks. So keeping them safe and calm, walking around the campground or at your cabin or campsite is important. During your practice walks, work on appropriate behavior and following your commands. Opt for a harness and leash for added control.
Tip #3: Evaluate social skills
It's realistic to assume that other pets will be present if you are camping at a pet-friendly camp-resort. If your dog is not used to being around other dogs or overreacts when they see a fellow canine, some practice improving social skills may be in order. As mentioned with leash walking, consulting a professional trainer is always the ideal way to go. It may be the case that your pup needs a bit more training with specific skills and is not quite ready for the campground experience. Don't rush the process.
Tip #4: Pack the essentials and then some
It's never a bad idea to overpack for your first-time experience camping with dogs. Among other essentials to pack for your pup, be sure to include:
Regular food and water
Harness/Leash
Waste bags
Favorite treats
Comfy bedding (bring the crate if they typically sleep in one)
Meds/supplements, if applicable
Favorite toys
Dog tag with your contact number and another with your campsite/cabin number
Tip #5: Enjoy Your First Camping Adventure Together!
Since this is Fido's first camping trip and your first time camping with dogs, make it a super special one! Take him on long hikes throughout the day, exploring around the grounds. Please don't leave him stuck in the RV or cabin. Bored dogs get rambunctious! Give them an adventure they'll want to return to again and again!
Have A Doggone Good Camping Adventure!
Book Your Pet-Friendly Stay With Us Today