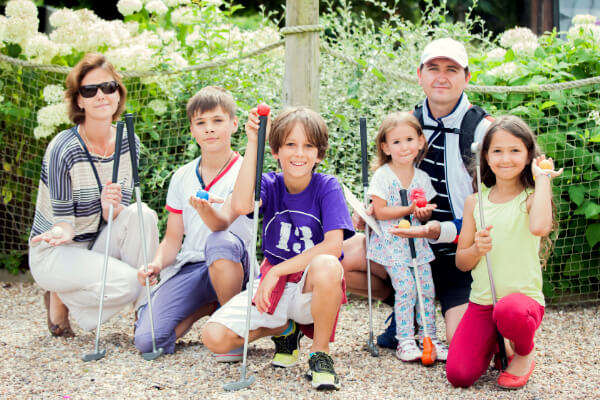 Other bears might celebrate Thanksgiving, but not Yogi Bear. He celebrates Campsgiving – a unique holiday celebration right here at Jellystone Park.
Here at the park we celebrate this great American holiday by being thankful for all the friendship folks like you have shown us over the years, so on Thursday, November 26th, we are making sure you don't have to lift a finger to prepare a Thanksgiving feast. Instead, we offer 'Campsgiving'.
Ranger Smith and the crew are preparing a turkey dinner with all the trimmings and the littlest cubs eat FREE. You'll get all the Campsgiving details when you check in.
Turkey Day Fun
Since you don't have to cook, the whole family can spend the day in the great outdoors together. Play gaga ball, tennis or basketball, rent a paddleboat or go fishing from one of the five fishing piers, and do the one thing every kid wants to do at home (jump on the bed) but isn't allowed to do. Go jump on the Jumping Pillow! Kids love it – grown-ups do too!
Or just stay indoors together and watch cable TV.
Yogi Bear and Boo Boo probably won't try to steal your pic-a-nic basket on November 26th because they will be helping Ranger Rick with Campsgiving dinner. But watch out for the following day when you want to play mini-golf, go to the playground, or play horseshoes…Yogi Bear is always hungry and he could pop out from behind a tree!
So make an extra-long weekend of it this Thanksgiving.
With our great FREE WiFi, you can keep up with your job and the kids can keep up with their lessons. We even have a special gift for you so you can stay longer and visit more often…Club Yogi Rewards.
Reserve your Cabin or RV Site Today for the best Yogi Bear Campsgiving ever at Jellystone Park / Yogi on the Lake. Book Now!
P.S. – Bring nonperishable food donations you will receive a coupon for our store!