Cindy Bear says, "Get really close to nature when you camp in a tent at Jellystone Pelahatchie/Yogi on the Lake. Tent campers have access to all amenities, and low rates, too!"
Sure, Ranger Smith offers all kinds of camping supplies, groceries, chocolate and gifts, but if you are smarter than the av-er-age bear, you will pack everything you need before you leave the house.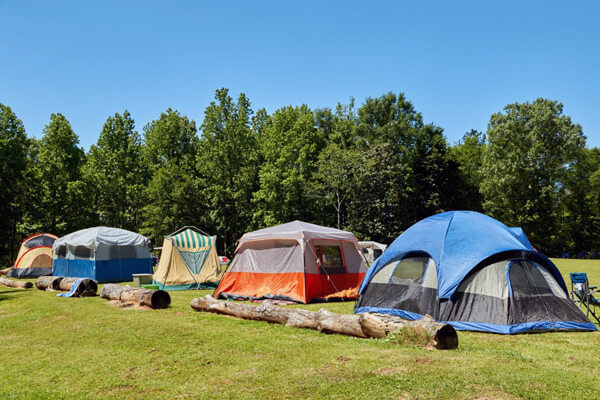 Cindy Bear (the Martha Stewart of Jellystone) says you need these things for your campsite:
Tent with poles and stakes
Ground cover
Sleeping bag & pad for each camper
Pillows & blankets
Extra tarp or canopy
Chairs
Flashlights & lanterns, with extra batteries & fuel
Repair kit for pads, mattress, tent and tarp
For your tent kitchen, you'll need…
Stove with fuel, matches or lighter
Firewood
Frying pan, pots, French press or coffee pot
Corkscrew, bottle opener
Tablecloth
Long skinny sticks for roasting hot dogs & marshmallows
Trash bags, food storage bags and plastic containers
Cooler & ice
Paper or plastic dishes, cups, mugs
Plastic silverware
Paring knife, spatula, cooking spoon
Cutting board
Foil
Biodegradable dish soap
Sponge, dishcloth, dishtowel
Paper towels & paper napkins
Extra bin for washing dishes
What clothes should we pack? Cindy Bear says "Dress for the weather and don't forget your hiking shoes and swimsuit."
Personal items & fun stuff:
Sunscreen, insect repellant, and first-aid kit
Prescription medications, hand sanitizers, and 2 face coverings per person
Toothbrush, toiletries, and soap
Camera
Bikes & toys
Campsite confirmation and phone number
Pet supplies & food. Don't forget the doggie!
Camper Appreciation Weekend is coming up soon
Join us June 26th – 28th and let us show you how much we appreciate you. Join our Bears for a special social at the Activity Center. Then later, meet our staff for a hot dog social and bonfire on the Activity Field.
Reserve right away. Jellystone Park Pelahatchie is busy, busy, busy all summer long. Don't let your l'il cub be left out of the memory of a lifetime. Reserve now or call us at (601) 854-6621.