Thank you for being a valued guest. We continue to monitor recommendations from the CDC and modify procedures and policies as appropriate.
**Updated 7/12/2020:
Hello all:
It is nearly impossible to answer every individual question that was posted on our update. We hope this adds some clarifications that were asked for. Currently, the order is in effect for our county, not the entire state. Our county is one of many being impacted. There were many concerns/questions regarding the masks and the heat, we did some research on the use of masks and the CDC guidance, which you can find here: Considerations for Wearing Cloth Face Coverings
Please note, there are several reasons the CDC recognizes as reasons masks may not be used. Children under 2 should not wear them, children pre-school age may not be able to wear them correctly or at all times, people with breathing disorders, extreme heat, mental conditions may not be able to wear masks.
It also clarifies that when outdoors or if a mask can get wet, if you can maintain social distancing, you may not need to wear a mask, but encourages you to do so when possible. Masks will not be required on the pool decks or in outdoor activities, but are encouraged if you cannot maintain social distancing.
Our team members will be wearing masks whenever possible and we will ask that you do as well, however, please note that if someone is not wearing a mask, the reason may be medical/disability-related.
Per the recent Executive Order, masks will be required at the park beginning at 8:00 am Monday, July 13. Our cafe and retail locations will be open at a 50% occupancy, while guests and staff are required to wear face masks and maintain social distancing.
We have not been able to find any updated information on the pool or splash pad and are reaching out for clarification. At this time, we will have the pool and splash pad open at 50% (250 people) occupancy, requiring face masks on the pool deck unless eating or drinking. Face Masks should not be used in the water. Families are responsible to maintain social distancing from people not in their family and no group can have more than 20 people together. The water features will be open to our camping guests first with day pass occupancy being limited. Please call before coming for a day pass.
Our high touch areas and outdoor recreation items (jumping pillow, playground, water wars, etc) will continue to be disinfected per the CDC guidelines. We ask that everyone please follow the guidance provided to us at this time. Activities will continue but may be modified for social distancing. Face masks will be required at any activity.
The current order is for one week.
THIS NEW ORDER EXPIRES JULY 20 AT 8;00 AM
Updated May 28, 2020
What does this mean for you and your reservation?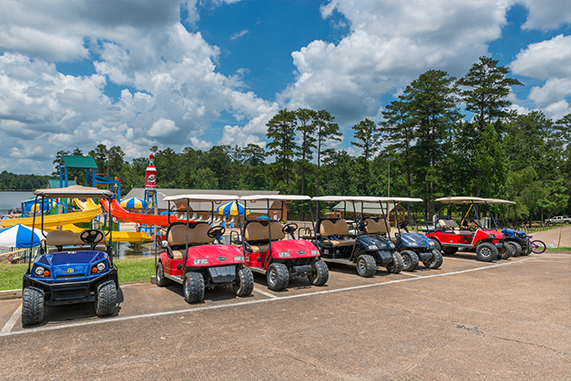 During your stay with us we would ask that you follow the CDC, federal, local and state guidelines during this national state of emergency.
You are the primary person responsible for your own preparedness in this time of COVID-19, we cannot guarantee anyone's safety from any virus or sickness during a visit to our park. This means you accept this risk for yourself and those you are visiting with.
If you are sick have medical vulnerabilities or are considered at higher risk, please do not come.
The only way to eradicate COVID-19 is by avoiding the chance of infecting others. Come back when you are well!
Until further notice, the following changes are in place
We are blessed with fresh air and outdoor activities that can be enjoyed in a solitary or nearly solitary manner. Remember, the outdoors is not cancelled.
We will have golf carts available for rent. They will be sanitized between each renter.
You will be able to walk and/or bike around the roads and elsewhere on the property if you are not in a group. Other activities available during your stay would be campfires at your site, scavenger hunts, to go arts & crafts, solitary fishing or swimming at the lake, and hiking. You may play cards/games at your site with your loved ones who are with you. Now is the time to get that longed for solitude!
Until further notice, the following changes are in place:
Laundry Station: Open with limited hours. The laundry area will be sanitized and cleaned a minimum of every two hours during operating hours.
Comfort Stations: There are multiple comfort stations throughout the park, they may not all be open based on occupancy needs. You will be notified which comfort stations are open for use during your stay. They will be sanitized a minimum of every two hours during operating hours. Touch point areas such soap dispensers, door handles, faucets, toilet paper dispensers, paper towel dispensers and bathroom stall doors will be wiped down and disinfected. After business hours you will be responsible for your own sanitation this means you accept this risk for yourself and those you are visiting with.
Ranger Station (Store): Open, with regular hours. We will be selling necessary items at the store including propane, wood, grocery supplies, RV supplies and souvenirs as we always do, however, we are practicing social distancing both inside and outside the store. There is a maximum person limit of 10 people inside at one time.
The Cartoon Café will be open with limited indoor seating
Registration Station: We are limiting the interaction between registration and our guests. Please call or email. We have express check in only. Please make sure your balance is paid in full prior to arrival to minimize any direct interaction with our staff.
Playground, jump pad, water wars and water rentals are open. It is impossible for us to keep the equipment sanitized between each use. Equipment will be sanitized a minimum of every two hours.
Volleyball, tennis, basketball, mini golf, and gaga ball are open. You can bring your own equipment or check it out from the Ranger Station. We will be disinfecting in between uses. Social distancing should be maintained.
Pool and Water Zone are open. We are at 50% capacity, however with the normal capacity of our water area, we have not had to turn anyone away. We are not allowing day pass visitors on Saturday to ensure our camping guests have full usage of this amenity. We ask that you do your part and social distance with people that are not in your immediate party.
Activity schedules have been adapted to allow for social distancing at all events and are running as normally scheduled.
Directives that must be followed:
We ask that you are practicing social distancing while you are here, for your safety and the safety of those around you.
We are wiping down all touch points throughout the park on a regular basis: the ice machine handles, and front door handles every day and the countertops many times a day. It is still up to you to protect yourself by bringing your own gloves, masks and personal hand sanitizer. We are sorry but we cannot provide you with any of our supplies.
We are committed to providing you with a safe, fun camping outing and continuing as many of our planned activities as possible while respecting social distancing guidelines.
Stay Safe and Happy Camping!