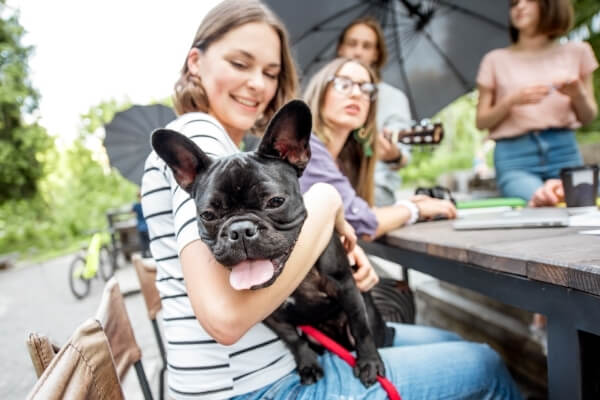 Yogi Bear™ and his buddies aren't the only animals to be found around here…Jellystone Park™ Pelahatchie is a regular paradise for dogs!
Dogs in RVs are always welcome, at no extra charge. Dogs in pet-friendly cabins or lodges are OK too with a non-refundable cleaning deposit of $25 per pet. We also have RV sites and pet-friendly cabins with Doggie Dens right on site! Our Doggie Dens are a fenced-in area on your site where your dog can be leash free and hanging out with the family!
Small dogs are always good choices as RV traveling companions. The most popular breeds that are small enough for your kids to handle weigh 30 pounds or less. All dogs are smart and lovable.
So, if you're looking for a friend for your li'l cubs, go to the nearest pet shelter or rescue organization and adopt one of these…
Chihuahua – The Chihuahua is the smallest breed of dog, and is named after a state in Mexico. With long hair or short hair, Chihuahuas are loving, lively, and devoted. Really 'big' ones may get up to 6 or 7 pounds.
Pomeranian – The Pomeranian is named for a region in north-west Poland and north-east Germany. Classed as a toy dog breed because of its small size, the Pomeranian is descended from the German Spitz. They are frisky, intelligent, and active. Might even grow to 7.7 pounds.
Pug – Charming, mischievous, and loving, Pugs have short hair, cute funny faces, and usually weigh 14 – 18 pounds.
Shih Tzu – The Shih Tzu is a toy dog breed developed in Tibet. Beautiful little dogs with long silky hair, they are clever, affectionate, and intelligent. May grow as large as 16 pounds.
Dachshund – Affectionately known as a 'Wiener Dog', the Dachshund was first bred in Germany 300 years ago to hunt badgers. These doggies are stubborn, lively, devoted, playful, and courageous. Usually weigh 16 – 33 pounds.
Bichon Frise – Small and sturdy Bichon Frise has a great personality. Fluffy, white, and hypo-allergenic, they are playful, curious, and peppy. This pretty furball weighs in at 12 – 18 pounds.
Little Mutt – Mongrels, mutts, or mixed-breed doggos come in every size, shape, and color. Adopt – don't shop, and find a smart, loyal, loving friend for life at your local pet shelter.
Jellystone Park™ Pelahatchie is pet-friendly. And right now, you, the kids, and your dear doggies can stay even longer, thanks to our Club Yogi Rewards Program.
Don't forget to reserve now for Valentines Day Weekend complete with mini photo sessions and a family friendly Valentine's Day Dance!
Bring the Family, Bring the Pets. Reserve Your Stay at Jellystone Pelahatchie /Yogi on the Lake Today!