It's fall, y'all, which means plenty of camping fun and surprises at Jellystone Park™ Pelahatchie. October is perhaps the most Spooktacular time of year in our park, with five whole weekends of Halloween hoopla, including arts and crafts and activities, pumpkin carving, costume contest, and a campsite/cabin decorating contest!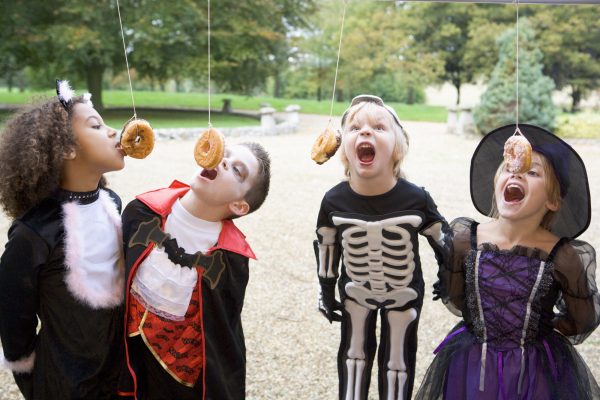 Halloween Spooktacular Weekends
Our campers are known for competitive decorating, outdoor cooking, and having a good time. Prizes will be awarded first-fifth place in campsite/cabin contests. Plus, there will be plenty of time for your little goblins to go trick-or-treating, so don't forget candy for the trick or treaters.
If you missed the first couple of rounds of Jellystone Park™ Pelahatchie's Halloween Spooktacular Weekends, don't fret! There are still a few more weekends left in October, so you and the family can have a monstrously ghoulish time. Our All-Hallows' Eve celebrations take place every Friday thru Sunday in October.
Dress up for the Camping Fun in Your Halloween Costumes
Dress for the occasion in Halloween costumes when you stay during one or more of our Halloween Spooktacular Weekends. Why not wear a different costume every day?!
For costumes on a budget, you can create a devilishly fabulous getup by using items from around your home or even picking up a few items from your local thrift store or Dollar Store. Of course, get the kiddos in on the planning and designing of their costumes too! The following are a few ideas on DIY Halloween costumes.
Skeleton – All you'll need to transform into a skeleton is black clothing (long-sleeve shirt, pants, socks, and shoes) and white duct tape. Then, use duct tape to create your bones, cutting pieces for the arms, legs, spine, pelvis, and shorter pieces for the joints, ribs, fingers, and toe bones.
Fairy – For a more enchanting costume like a fairy princess, you'll need a skirt, shirt, and leggings. Pick up a pair of wings and a plastic crown from the Dollar Store, and you're all set!
Don't Miss Out on Even More Surprises!
Of course, October isn't the last time you and the family can enjoy camping fun and festivities at Jellystone Park™ Pelahatchie. We're open year-round and offer special deals all the time! Take a look at some of the deals we have available for the remainder of 2021
VETERANS DAY WEEKEND 50% OFF
Nov. 12-14, 2021
Thank you to our veterans and active-duty military members! To show our gratitude, we are offering 50% off when you stay with us November 12 – 14, 2021!
Enter promo code: HERO at check-out
EXTEND THE FUN
Sept. 20 – Dec. 31, 2021
Add Thursday or Sunday to your weekend stay and get 50% off.
Enter Promo Code: FALLEXT at check-out
THIRD NIGHT FREE
Sept. 20 – Dec. 31, 2021
Monday – Thursday
Stay 2 nights and the 3rd night free.
Enter Promo Code: FALLNITE at check-out
Take advantage of these deals and prepare for a whole lotta camping fun this fall!
Don't Delay! Book Your Stay With Us Today!