February – the shortest month offers the biggest fun! Just in case you need another reason to visit Jellystone Pelahatchie/Yogi on the Lake (the best getaway in Mississippi), here's lots of them…
February 2 is Groundhog Day
Will the Groundhog see his shadow? Will we have another 6 weeks of Winter? The average February temperature here at Jellystone is 65ᵒ, so we're not worried about winter anyway. But get the answers to all the previous questions when you watch Groundhog Day, one of the funniest movies ever made, on Amazon. We have WiFi.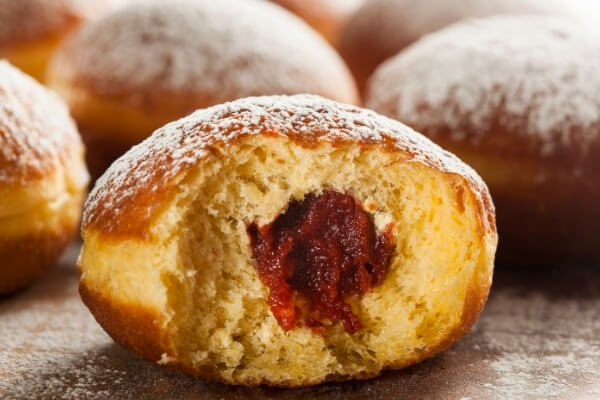 February 16 is Paczki Day – Jelly Donuts!
In every culture, people celebrate the beginning of Lent by feasting on special foods. In Poland, Shrove Tuesday is known as Paczki Day. What's a Paczki? Say 'poonch-kee'. It's a round, sugar-coated, fruit-filled Polish pre-Lenten pastry – like a jelly donut. In other places, this special day of feasting is known as Pancake Day. So, c'mon and pick up some jelly donuts at the bakery or make pancakes in your own RV kitchen. Have your own feast at Jellystone Park.
February 20 is Love Your Pet Day
Everybody loves their pet – those bright eyes, those wagging, fluffy tails. And pets love their own special Doggie Dens at Jellystone Pelahatchie. Or take your dear little friend on a walk through the woods or along the lake. Every day is Love Your Pet Day, but February 20 makes it official. Pets in RVs are always welcome…some cabins are pet-friendly too!
The fun continues throughout February with great park activities…
Fishing and boating on the lake
Playground
Jumping pillow
Mini-golf
Gaga ball
Basketball
Tennis
And, of course, Swimming Pool and Splash pad
So make February an extra-special month of camping, food, and fun for your family and pets. With our great FREE WiFi, you can keep up with your job and the kids can keep up with their lessons. We even have a special gift for you so you can stay longer and visit more often…Club Yogi Rewards.
Reserve your Cabin or RV Site Today for the best February fun ever at Jellystone Pelahatchie / Yogi on the Lake. Book Now!