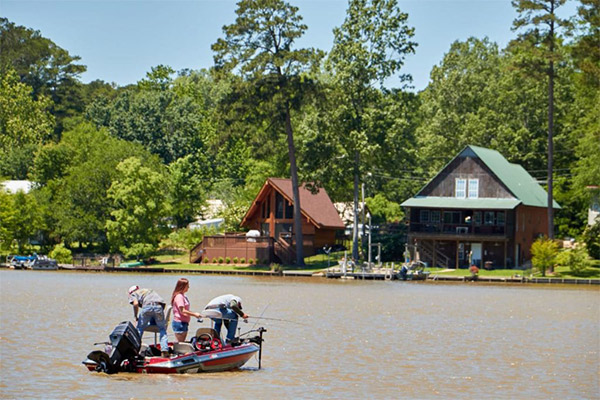 Fishing is loads of fun! Just ask any of the 50 million people in the United States who are active anglers. More people fish in the US than play golf and tennis combined. If you have never fished you should give it a try, especially fishing in Pelahatchie.
All guests are encouraged to test their angling skills on the Pelahatchie Lake, the 95-acre lake adjacent to our property. Species caught here are: Bass, Bluegill, Crappie, Catfish, Brown, and Carp. The Carp are catch-and-release only.
Many of our guests fish right from our bank while others prefer renting one of our boats. Boat rental season runs from March 1 through October 31. Some of our guests also bring their own boats throughout the year.
Current boat rental options:
John Boats: $15 per hour or $50 per day.
Kayaks and canoes: $25 per hour.
Aqua cycles: $25 per hour.
The John boats seat up to four adults comfortably and include a trilling motor. Lake Pelahatchie is a 'no-wake-lake', which means that the smaller (trilling) motor is the only permissible option. Guests can purchase their fishing licenses and bait (worms and artificial) at our onsite store.
Your Jellystone Pelahatchie experience promises to be nothing short of amazing. Enjoy your next fishing and boating adventure in the beautiful Mississippi countryside and start making lasting memories with your family and friends, today.
And when you need a break from fishing (Is there such a thing?) you can enjoy a soothing glide across the Pelahatchie Lake in a kayak or canoe, or gently pedal to your heart's content on an aqua cycle.
Start making loving and lasting memories today, and enjoy great fishing in Pelahatchie.