A 'Bear-y" good time at Jellystone Park™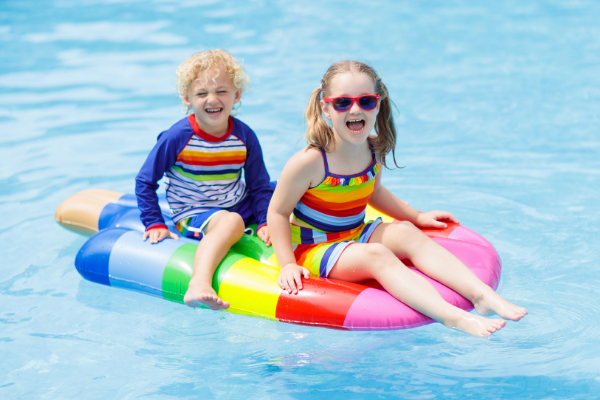 People send us nice notes all the time and Jessica J is no exception. She recently posted a glowing note on Google Reviews and ended by saying, "No reason to say you're bored here!"
Thanks, Jessica! And just in case you're not sure what she means, Yogi Bear™, Cindy Bear™, and their pal Boo Boo™ have a whole long list of fun things for you and your li'l cubs to do here at Jellystone Park™ Pelahatchie / Yogi on the Lake.
Fun Things to do at Jellystone Park™ Pelahatchie
Get Wet!
Summertime is here – time to run around on the Splash Pad in the Water Zone, jump into the Pool, and wade in the lake on the Sandy Beach.
Play Ball!
If it's round, we have it. Golf balls are round – try Mini-golf. Gaga balls are round – hop into the Gaga pit and swat that ball. Basketballs and tennis balls are round too. Get your friends and family members together for exciting games on our tennis and basketball courts.
Eat Something!
On Google reviews, Nina I says, "The food at the café is awesome." Take her advice and go to the Cartoon Café. Play Candy Bar Bingo and gobble up your winnings. Grill your dinner and have a picnic in your own campsite or in a Picnic Pavilion beside the lake.
Go Fish!
Rent a kayak or a paddle boat, fish from your boat or the piers, catch a fish and throw him back, and watch the geese. Fishing is the most relaxing thing ever.
Come Back Soon
We have lots of other fun activities too. Have you tried laser tag, the jumping pillow, the arts & crafts center, horse shoes, human foosball, or corn hole?
Take a tip from Hollie, who wrote on TripAdvisor saying…"We WILL NEVER CAMP ANYWHERE ELSE! Just about 30 minutes outside of Jackson, MS you'll find a quaint little town that looks as if to be long forgotten. However, if you spend a little time there you'll realize Pelahatchie is far from forgotten. There may not be big new buildings, but inside this gem town you'll find some of the friendliest people, a great hamburger at K's, a Dollar General, Fairway Grocery Store, and certainly not least- Jellystone Park's Yogi On The Lake." Thanks, Hollie!
And thanks to you, Dear Camper, for being a friend. Come see your friends Yogi Bear™, Cindy Bear™, and their pal Boo Boo™. Reserve your stay at Jellystone Park™ Pelahatchie / Yogi on the Lake and have a 'Bear-y' good Time.