Yogi Bear was already a successful cartoon TV star who used to rob campers of their pic-a-nic baskets with his little buddy Boo Boo, when he was reborn in 1969 as a real, live, in-person cartoon personality at the first Jellystone Park in Wisconsin.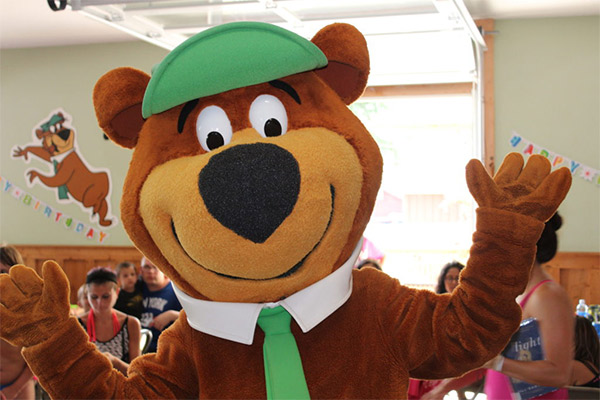 Now, you can meet Yogi Bear, his girlfriend Cindy Bear, and their pal Boo Boo every day of the week at Jellystone Pelahatchie/Yogi on the Lake and ask him that question in person.
This is a great time of year to visit Yogi Bear's Old Swimming Hole (the swimming pool), fish in the lake, slide down the slides, play mini-golf, host your child's birthday party, or plan a unique weekend…like Yogi Bear's Birthday Party on September 27th. And guess what…
You'll Save Money Too With Double Points!
Club Yogi offers a great deal all the time, but right now it's even BETTER! There's still time to get in on the Fall bonus – Earn Double Points now through September 30, 2020.
Club Yogi Rewards means members who stay with us ANY day now through September 30, 2020 will earn Double Club Points on Stays and Qualified Purchases.
What are qualified purchases?
Qualified purchases include spending that is captured by the park's reservation and Point of Sale systems, such as…
Tent sites
RV sites
Rentals
Qualified merchandise
And while we're talking about Yogi Bear's Birthday, there's all kinds of other fun weekends coming up in October too. Like the month-long Halloween Trail of Terror! It's gonna be Boo Boo Bootiful!
So c'mon Mom and Dad, it's time to teach the only history lesson your little cub cares about…where did Yogi Bear come from and when is his birthday?
Book Your Stay With Yogi Bear Today!