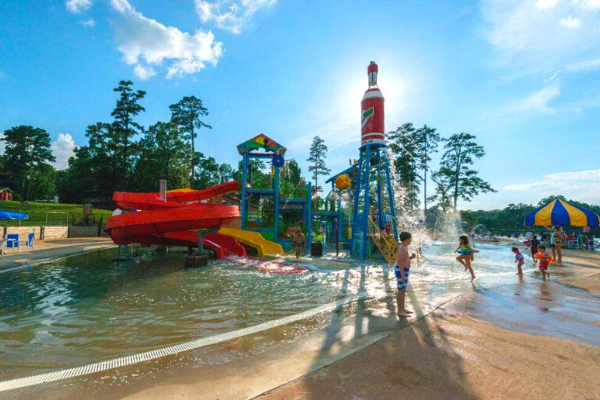 As Yogi Bear™ might say: "Hey, hey, hey…"
Yes! After months of waiting for warm weather to arrive, the Jellystone Park™ Pelahatchie pool, splash park and all other water activities are open!
And…you've told the kids they're about to pay a visit to what's known as "Yogi on the Lake" and even your husband is excited for a visit to this popular resort. Before you hop on the road, make sure you have packed everything you need for water activities!
Do you need this…or that?
Keep reading for a perfect stay:
Bathing Suits – Of course, this seems like a no-brainer, but sometimes in the height of excitement, many families forget to pack their swim trunks, bikinis, etc. Make sure everyone who is going has their swimsuit packed and ready for a dip.
Bathing caps – For some these may seem old-fashioned but for others, a bathing cap can protect ears from getting water in them, colored hair from being subjected to chlorine, and more.
Sunscreen – You've heard it time and time again to make sure you put on sunscreen to protect your skin from burning. This a must even if it's not going to be super sunny or hot when you go, the sun's rays are still strong.
Comfortable shoes or sandals – There's pavement and sidewalks, and areas near all the facilities so are sure you're wearing some safe rubber shoes in case these areas are hot.
Hat or head covering – You should make sure your head is covered with a sun visor, floppy hat, or baseball cap to keep the sun at bay.
Sunglasses – Sunglasses can keep eyes from burning especially if you're walking around the resort, reading, or simply sitting in the sun. You'll want to protect your eyes. Swim goggles too can keep eyes safe in the water.
Towels – To dry off, as well as a set of dry clothes for the ride back home, to your RV or Cabin, or wherever you're headed. Also, a bag to put the wet clothing.
Snacks, reading materials for adults, headphones, and chargers for phones in case yours goes dead.
Once you've got everything ready and loaded it's off for frolicking, fun, and more at Jellystone Park™ Pelahatchie! Who knows? You might even see Yogi Bear™ and Boo Boo™!
Book Your Wonderful Water Getaway Now!