Campfire Dessert Recipes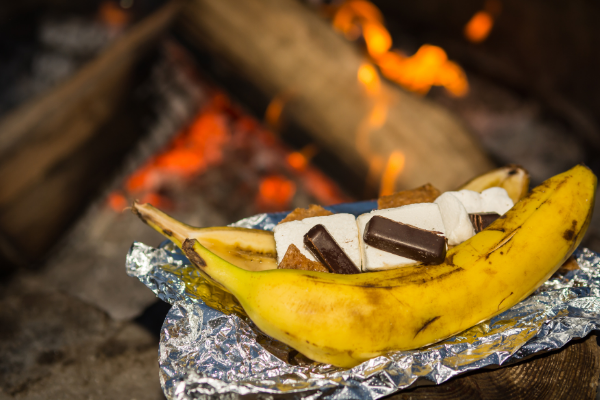 Yogi on the Lake's endless attractions and activities make every stay an adventure! With so much fun packed into each day, it's easy to build up an appetite. And while folks are welcome to enjoy snacks and other goodies at our Cartoon Cafe, it's also a treat to enjoy a few meals around the campfire, especially when the meals include campfire dessert recipes!
On your next stay with us at Jellystone Park™ Pelahatchie, set aside the smores and try some of these super easy, simply scrumptious campfire dessert recipes. You and the family are sure to fall for these tasty sweets and perhaps make them your new go-to campfire treats!
Campfire Dessert Recipes
Campfire Roasted Strawberries
Ingredients:
Strawberries
Jar of Marshmallow Fluff
Directions:
Wash strawberries and place one onto a toasting fork.
Use a knife to spread marshmallow fluff onto the berry.
Hold over the fire until the fluff toasts to your desire.
Remove from over the fire, pull off the strawberry treat (careful it's hot), and enjoy!
Campfire Dessert Cones
Ingredients:
Ice Cream Sugar Cones
Your Choice of Mini Sweet and Salty Treats
Suggestions:
M&M's
Miniature Marshmallows
Salted Peanuts
Chocolate Chips
Directions:
Stuff cones with your favorite sweets and salty treats before wrapping each filled cone with foil, sealing tightly.
Place foil wraps over a campfire or grill (medium heat preferably), and cook until heated thoroughly, typically 7-10 minutes.
Remove from heat and carefully unwrap the foil. Spoon out the filling or gobble it down whole. There's no wrong way to eat it!
Campfire Banana Boats
Ingredients:
Banana
Chocolate Chips
Crumbled Graham Crackers
Marshmallows
Directions:
Slice a banana down the center lengthwise with the peel on.
Stuff the center with toppings.
Wrap the banana in foil and warm it over the campfire.
Remove from the fire and dig in!
A cabin or spacious campsite, plenty of first-class amenities, loads of attractions and themed activities, and campfire dessert recipes to boot…you and the family are all set for the ultimate getaway at Jellystone Park™ Pelahatchie!
Don't delay!