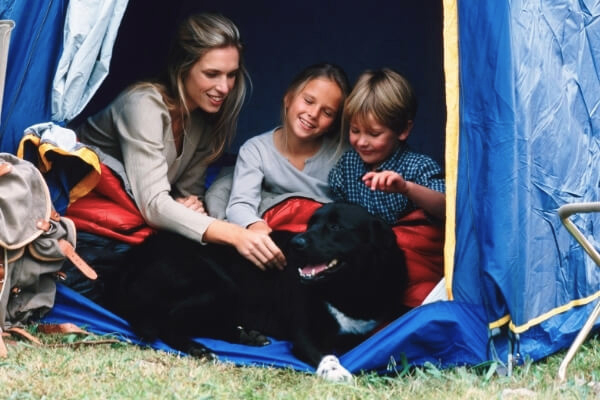 Tent camping with children…yes or no? To be sure, tent camping is definitely more 'outdoorsy' than the comforts of your RV or a stay in a cabin, but it's definitely do-able, even with children. And here at Jellystone Park™ Pelahatchie, our designated tent area is near the restrooms and the trees, so you have the convenience of modern amenities and the cozy, rustic feeling of being in the woods, all at the same time.
Here's a few kid-friendly tent-camping tips…
Get a roomy tent and comfy sleeping bags.
A string of battery-operated or solar lights will make your tent feel festive.
Don't forget the sunscreen and the mosquito repellant.
Bring delicious foods so you can grill real dinners.
A good night's sleep in the great outdoors can smooth out any camping wrinkles.
Bring your doggie! Pets are allowed in the tent area, so please clean up after your pet.
You're Settled in – Now What?
Once your tent is set up, the lights have been hung, and the sleeping bags unrolled, it's time to explore the park and have fun.
Kids of every age – that means you too, Mom and Dad – love the pool. The shallow section is just right for the smallest child, and it gets deeper for folks who want to swim laps. Slip and slide in the Splash Park, jump like crazy on the Jumping Pillow, and enjoy fishing and boating on the lake, mini-golf, and games galore.
Your tent site includes water and 20 amp electric, so you can plug in the crock-pot and make a great dinner, plug in the lap-top and watch a great movie, or unplug everything and tell a great ghost story.
You and the kids can get back to nature with a tent camping vacation, here at Jellystone Park™ Pelahatchie. Affordable, too.
Don't wait another minute… Book Now!