Are you ready to fire up your competitive spirit? Gather up the kids and head on down to our sporty grounds for some great fun. We have plenty of on-site amenities to get your game in gear: basketball, volleyball, tennis, mini golf, horseshoes, swimming, and a few more unconventional options which are loads of fun.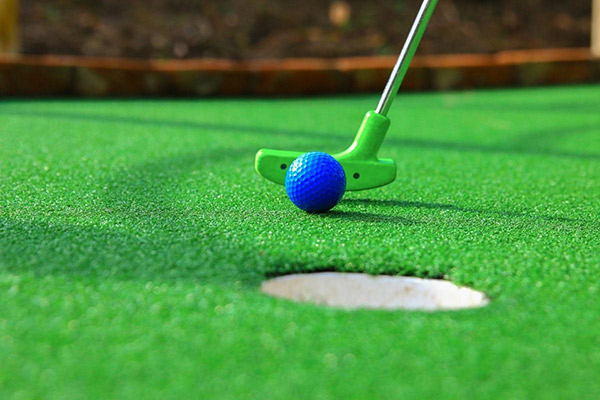 Here are a few of our top family camping activities to try out:
Human Foosball
The playing field is about 32 feet long by 16 feet wide, with rods stretching across the field. You hold on to the rods in set positions. Though the number of players can vary, it closely resembles the table game version. Ideally, it's played with 10 people and is great fun for larger families and groups.
Jumping Pillow
Fun for all ages, our inflatable giant jumping pillow is great family fun. So, go ahead, join the kids and have loads of fun while burning away those calories.
Sports Courts
Tennis anyone? Channel your inner Roger Federer and bond with your teenagers over a competitive game of tennis. Make it better with a fun game of doubles.
Basketball
Hoops lovers will enjoy practicing their jump shots on one of our basketball courts. Strike up a game of one-on-one with your daughter or better still, partner with her for a two-on-two.
Horseshoes
Enjoy this timeless classic anytime of the day with family, friends and new acquaintances. Relish the unexpected as you bump your competitor's horseshoe from the ring, snatching victory!
Mini Golf
Unlike traditional golf, mini golf can be played by the entire family. Enjoy our brand new 16-hole putt-putt. It's a great fun-filled way to reconnect with your kids in a relaxed environment. People of all skill levels, from first timers to seasoned mini golf pros can relish the fun together.
GA GA Ball Pit
Have you ever tried dodge ball in a pit? Didn't think so. This modified version of dodge ball is great family camping fun and even more challenging, unless you're a world-class soccer star. You cannot use your hands; you can only kick the ball at your intended targets. The playing area makes it a little easier: it's played inside a 15 by 15-foot pit.
Experience the Pelahatchie difference with great on-site amenities like these when camping with teens and little ones, and you'll take great comfort in knowing that you provided a fantastic family camping experience. Book your stay, today.