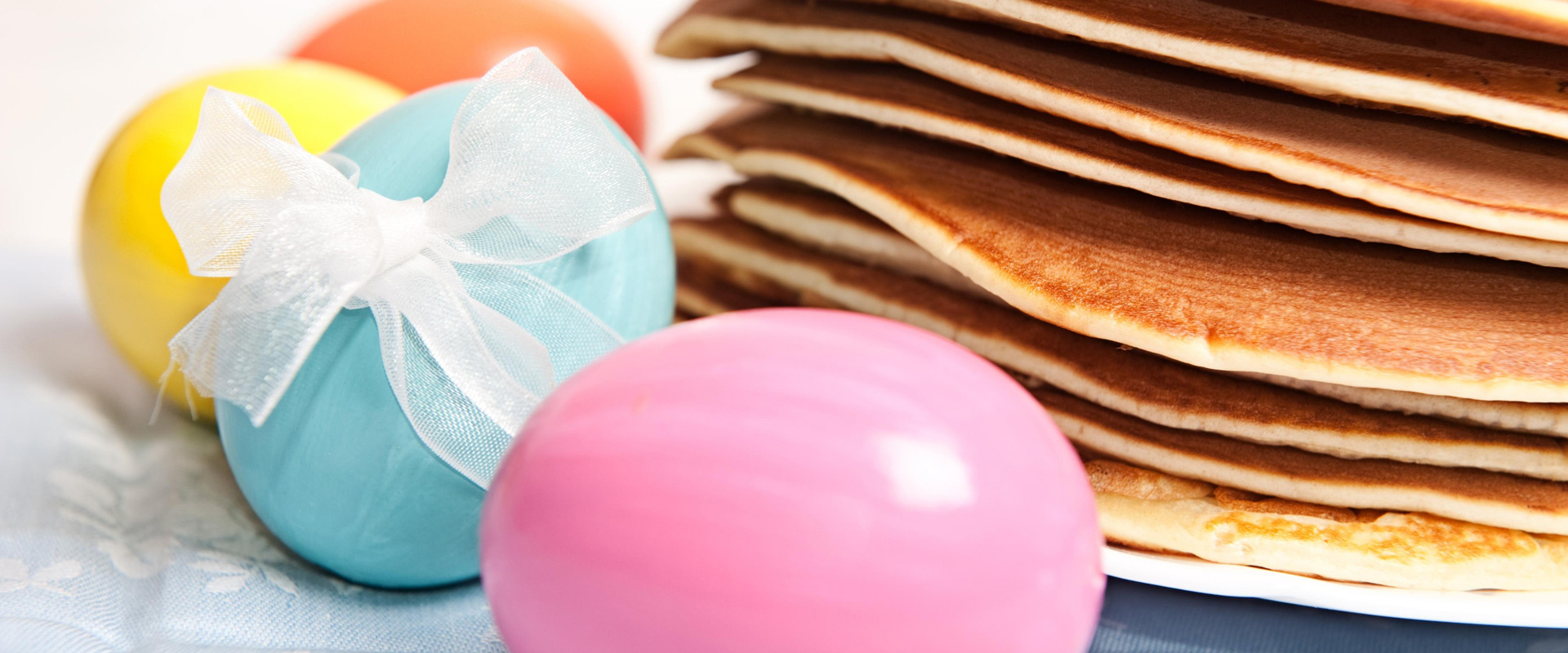 Pancake Camping Breakfast
Pancakes are an excellent camping breakfast, and Easter weekend is the perfect time to go on a family camping trip to Jellystone Park™ Pelahatchie. April 15th through 17th, we will be having our Easter Eggstravaganza Weekend, including an egg hunt, egg decorating, and Easter crafts galore! The following pancake ideas will add a little Easter flare to your pancake camping breakfast.
Note: To save on prep, mix your dry pancake ingredients before your camping trip, or use pancake mix.
Peep Pancakes
Nothing says Easter like marshmallow Peeps. You can add their marshmallow flavor to your camping breakfast pancakes by simply tearing up different colors of Peeps and adding the pieces to the pancake batter. Alternatively, if you are using frozen or premade pancakes, top them with a little whipped cream, Easter sprinkles, and a Peep on top.
Pancakes and Easter Eggs
Pancakes and eggs are a staple camping breakfast combination. So why not serve up some colorful Easter eggs for Easter to go along with your morning flapjacks?
Ingredients:
1 – 2 hard-boiled eggs per family member (Hard boil the eggs right before your camping trip.)
Food coloring
1 tsp vinegar for each color
1 cup or mug per color
Water
Salt and Pepper
Directions:
Remove the shells from the hard-boiled eggs.
Fill cups/mugs 2/3 of the way with cold water.
Add 3 drops of food coloring and 1 tsp vinegar to each mug/cup.
Drop the peeled eggs in the food coloring mixture and allow them to sit until the desired color is reached. Remove from dye and drain on a paper towel.
Cut in half, add salt and pepper to taste, and serve next to your Peep pancakes.
Fruity Pebble Easter Pancakes
Fruity Pebbles breakfast cereal happens to have a lot of Easter colors, and adding them to your pancake batter gives them an extra Easter spin and an awesome flavor the kids will love.
Simply make your favorite basic pancake batter. Have the kiddos crush about 1 cup of Fruity Pebbles in a zip lock back and add the crushed cereal to the batter. Cook the pancakes like normal and top with additional Fruity Pebbles and syrup if desired and enjoy.
Book Now and Try Out Your Favorite Camping Breakfast
With spring officially here, your camping breakfast isn't the only thing sizzling. Sites tend to go like hotcakes during popular theme weekends and holidays, so book as early as possible to secure your family's next Jellystone Park™ Pelahatchie camping adventure!
Book Your Spring Family Getaway Today!