It's Halloween at Yogi on the Lake. Five fun-filled fanciful weekends of costumes, candy, camping, and so much more on the Annual Trail of Terror!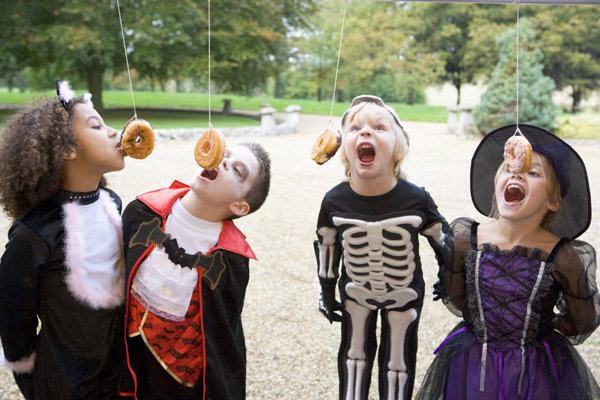 Visit us any (or every) weekend in October for…
The Trail of Terror, a Kids NOT so Haunted Trail
Magic Pumpkin Patch
Pumpkin Decorating
Candy Bar Bingo
Costume Contests
Golf Cart Parades
Site Decorating Contests
Campground Trick-or-Treating
And so much more!
Pick your favorite weekend and Book Now to reserve your favorite RV or Tent site…Halloween is Spooky Fun!
Pack decorations for your RV and campsite, your little cub's costume, and plenty of candy for
campground trick-or-treating. You say you don't feel like shopping for a costume that will be outgrown
before the Halloween candy is even eaten? Try these quick & easy DIY no-sew costumes…
Ghost
Always popular and SOOOOOOOOOOOO easy. Take an old white bedsheet and cut a couple of holes for eyes. That's it!
Pumpkin Pi
Get an orange T-shirt and use a black Sharpie or black duct tape to decorate it with a large black Greek letter Pi 𝛑
Mummy
Dress your li'l cub in black tights or leggings with a black long-sleeved T-shirt. Wrap the kiddo in miles of white gauze bandage, but don't do a tidy job. Let patches of black show through to be extra creepy. Don't forget to wrap his or her head.
Raining Cats & Dogs
You need a raincoat, an umbrella, and old stuffed toy animals. Use hot glue to fasten the cats and dogs to the top of the umbrella. If the stuffed critters are light enough, use strings to hang a few of them from the points of the umbrella.
Chocolate Kiss
Scrunch up lots of tin foil to make the kiss. Or, if you want it to look more triangular, get an inexpensive child's size hoop petticoat with a draw-string waist from a wedding store, use the waist as the neckline, cut 2 slits for the arms, and cover the whole thing with tin foil. Make a cone out of paper for the hat, cover it with tin foil, and use staples to attach a paper banner that says HERSHEY'S.
More Halloween Fun!
What else can you do on the Trail of Terror? Eat Halloween candy and watch Halloween movies in your RV, because Jellystone Park Pelahatchie / Yogi on the Lake has WiFi.
Check Amazon.com for…
Scoob! 2020
Did you know the Mystery Machine gang met on a Halloween night? This animated movie delves into the gang's origins, then solves a mystery that's more fantastic than it is terrifying. (Plus, there are plenty of Easter eggs for parents who might've grown up with old Hanna-Barbera cartoons.)
Ages: 7+
The Addams Family 2019
They're creepy and they're kooky, but they're also plenty of fun. This animated take on the Addams clan also looks more like the old Charles Addams cartoons.
Ages: 7+
Scary Stories to Tell in the Dark 2019
This one's for the in-betweeners: Kids who have aged out of the most family-friendly scary movies, but aren't yet old enough for Nightmare on Elm Street. Based on the series of books that used to terrify you as a child, this movie follows a group of kids who have to investigate a bunch of local legends – before the legends wind up getting the better of them.
Ages: 14+
Halloween is real popular – Don't miss the fun at Yogi on the Lake. Reserve Now!