…and your li'l cub loves water too! Come visit Jellystone Pelahatchie/Yogi On The Lake for all the swimming and splashing your baby bear is dreaming of.
Yogi Bear says, "Meet me at the Splash Park, the Sandy Beach, or the Swimming Pool."
It's hot in the good ol' summertime, but it's C-O-O-L in the water.  Visit the Splash Park for waterslides, waterfalls, and water cannons.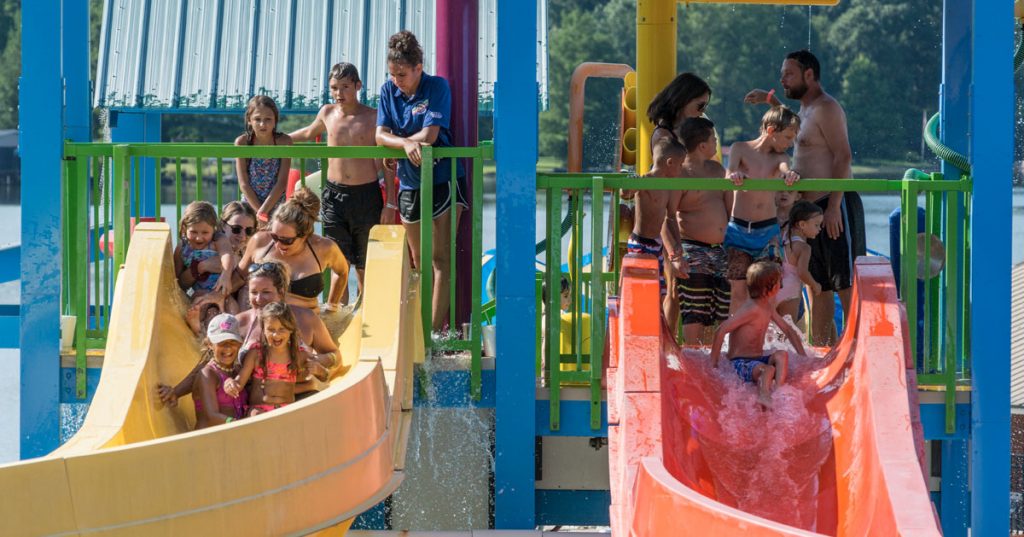 What's at the Swimming Pool?  Water, of course.  Lots of it.  What could be better than easing into the shallow end and bouncing along on your tip-toes 'til it's almost – but not quite – too deep?  Crystal clear sparkling water.  Just right for those hot summer days.
You know, Yogi only wears a hat and a necktie, but people need flip-flops, sunscreen, towels, and a swimsuit!  Don't forget 'em.
Dig holes and build sandcastles at the Sandy Beach – just like the seashore without the big waves.
Bears love to fish too. The Sandy Beach on Lake Pelahatchie is where Yogi goes to catch fish when he isn't stealing pic-a-nic baskets.  You can catch fish just like the bears. Cast your line from one of our five fishing docks. Glide across the lake in a kayak or a canoe. Bring your own boat or rent one of our John boats and angle for bass, bluegill, crappie, catfish and brown trout for your dinner.
So what are you going to serve your water-babies for supper?  Fresh-caught fish and a watermelon, of course!
Book your summer RV camping trip at Jellystone Pelahatchie/Yogi On The Lake right away. Every bear likes to swim and these sites fill up fast.  Don't let your li'l cub be left out.
Need more info?  Email or call us at 601 854-6621