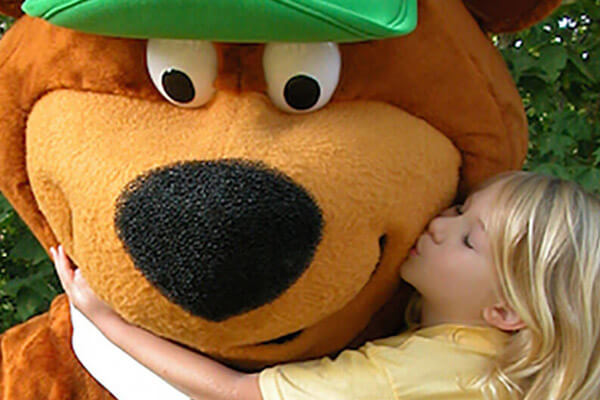 Hey Mama Bear and Papa Bear,
What's the one thing in the whole entire world your Baby Bear wants to do for their birthday? That's right…your li'l cub wants to meet Yogi Bear!
And guess what? Jellystone Pelahatchie also known as Yogi on the Lake is ready to throw your young 'un a party with the most famous bear ever…Yogi.
Don't just take our word for it though. On TripAdvisor, Lbgill wrote, "The place is wonderful for children. So much to do! We played putt-putt golf, the play-ground, the pool, water park, tennis, basketball, and Ga-Ga ball (as we call it) all free of charge."
Birthday parties at Jellystone in Pelahatchie, Mississippi are awesome!
So load up the RV and reserve your site or rent a pet-friendly cabin. When you arrive you'll find all the great stuff you've been reading about…
Sandy beach
Fishing on the lake
Golf carts
Scavenger hunts
Cartoon Café*
Playground*
Group sports activities*
Pool and water zone*
Just when your family thinks life couldn't possibly be any better, you can even arrange for Yogi Bear himself (he's not your Av-er-age Bear) to arrive at your RV birthday party with a special Jellystone cupcake for your Birthday Bear!
Just imagine the squeals of joy! What heroes you will be, Mom and Dad!
But wait…the fun doesn't stop there. You can find all sorts of great Yogi Bear birthday gifts at the Ranger Station like fuzzy-wuzzy Yogi Bear slippers, handy shiny Yogi Bear key chains, Yogi Bear tee-shirts in every size and color, and Yogi Bear mugs to drink your coffee from the Cartoon Café.
Yogi Bear says, "Call us today at (601) 854-6621 to book your birthday stay. Or click here and do it all online."
PS: Don't forget to register for Club Yogi Rewards – It's a FREE program from Yogi Bear Jellystone Park™ Camp-Resorts created to show you how much we appreciate you camping with us.
*Due to current circumstances, items with * may have reduced hours or capabilities. Check here for daily updates.