August is National Family Fun Month. What better way to spend some quality time with the family than going camping. Before the mad rush of back to school, work, and other extracurricular activities, be sure to book your stay with us at Jellystone Park™ Pelahatchie and enjoy some quality time as a family.
National Family Fun Month Activities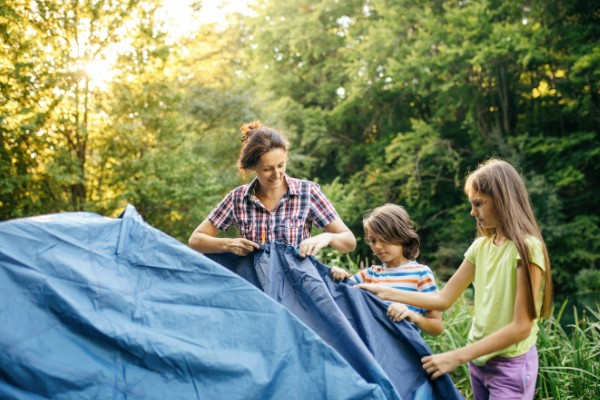 1. Get everyone involved in the trip planning and preparation.
A lot goes into planning and preparing for a family camping trip. Get the kids involved this time around by letting them pack their clothes and figure out what meals and snacks to prepare around the campfire. Talk about the kind of activities and attractions they'll want to enjoy at Jellystone Park™.
If you are staying in one of our spacious RV or tent sites, have the kiddos help hook up the RV or set up the tent. Not only is a second pair of hands always helpful, but this is an excellent learning opportunity.
2. Cook camping meals as a family.
Nothing beats preparing a camping meal together as a family. And if you forget to bring any ingredients, you can always do some last-minute shopping at our Ranger Station.
Divvy up tasks. For instance, have someone cut up fruit or vegetables (with parental supervision for the little ones, of course) and assign another the job of laying out the dinnerware. The best part is sharing a meal that everyone pitched in to help make.
3. Enjoy Jellystone Park™ Pelahatchie's many activities and attractions together.
There is certainly never a lapse in family fun at Jellystone Park™ Pelahatchie. Get wet and wild at the Splash Park. Spend a relaxing day fishing. Challenge each other to a game of miniature golf or bounce around from one scheduled park activity to the next. You and your family will not run out of things to do together during your stay.
Treasure Family Time at Jellystone Park™ Pelahatchie
We've got you and your family covered for National Family Fun Month with our first-rate amenities and fun-filled attractions and activities. We are looking forward to you and your family joining us on your next stay and building your family camping traditions with us!
Celebrate with Family Year-Round!