Parents strongly cautioned! Yogi Bear and his li'l accomplice Boo Boo are stocking up on cookies and sandwiches left and right by stealing your kids' pic-a-nic baskets. Why, just a couple of weeks ago, Yogi Bear ADMITTED to the 'crimes' and owned up to his love of grape jelly. Now that it's Spring and little green leaves are busting out on all the trees, there are plenty more places for the bears to hide. Beware!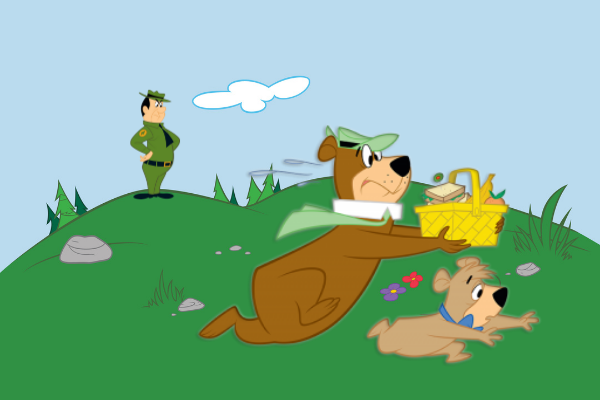 Mini-Golf Greens
Why are Mini-Golf greens the same color as Yogi Bear's Necktie? 'Cause they're green like grass, that's why. In fact, on a grown-up golf course, the greens really ARE grass. So practice your putting right here on our Mini-Golf course, L'il Cubs, and one day you may be famous professional golfers.
Jumping Pillow
Is any kid anywhere allowed to jump on the bed? Heck no! That's why the Jumping Pillow is so popular. It's strong enough to support you too, Mom and Dad. Go ahead…try it out!
Brandy C says on Facebook, "Perfect family atmosphere with a myriad of activities. The children loved the pool/swim area and the jump pad."
The Playground
Climb! Slide! Run around! Check out the video of the kids playing Mini-Golf, running to jump on the Pillow, fishing on the lake, and cavorting on the slides and Splash Pad.
So much for kids to do every day of the week. In fact, Rhonda D says, "This is a great place to take the grandkids. Very convenient and lots of activities. Great staff! Had a wonderful weekend!"
Summertime means vacation time, so reserve your stay at every kid's all-time favorite place – Jellystone Pelahatchie Park/Yogi on the Lake.
Don't Delay – We Fill Up Fast! Book Now