Still plenty of summer left, and the whole family wants to visit Yogi Bear before the school year starts. You can do it!
Jellystone Park Pelahatchie has cabins to suit every size family, even some that are wheelchair-accessible.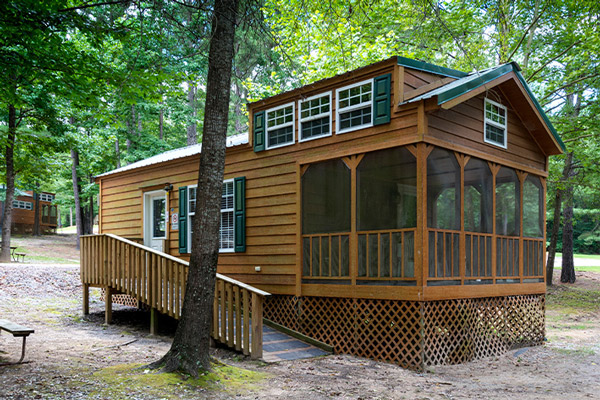 The Yogi Bear Cabins – real log cabins, just like Yogi Bear himself would live in…but these are better. In the woods or on the waterfront. Sleeps 8. All you need are bed linens, dishes, and groceries.
Ranger Smith Pet-Friendly Cabins – Bring your doggie too! Not every cabin is pet-friendly, but these are. Your pet won't escape from the screened-in porch. Sleeps 8. Don't forget the dishes, bed linens, groceries, and pet food.
Ranger Cabin – Handicap Accessible – Glide up the ramp to comfort. Handicap-convenient bathroom too. Sleeps 6. Bring bed linens, dishes, and groceries.
Cindy Bear Cabin – Look how cute this one is! It's brown and green – almost camouflaged in the forest. Sleeps 6. Cindy Bear says, "Bring bed linens, dishes, and groceries."
So…your family is REALLY big or maybe too small for the cabins? Maybe you just want to get close to nature. You need a Tent Site! Every tent site has water and 20 amp electricity. Pets are OK too.
And if you've never camped in a tent before, Cindy Bear (the Martha Stewart of Jellystone) has most graciously provided a list of everything you could possibly need.
Are you staying with us toward the end of August?
Fun weekends coming up…
August 21 – 23…even better than the Indy 500, it's C'Indy 500! Ladies, Gentleman and GentleBEARS start your engines! Build your own race car at the Activity Center and join Yogi Bear as he waves the checkered flag for our C'INDY 500 Race.
August 28 – 30…Outer Space Weekend! Houston, we have lift off! Join Space Cadet Yogi Bear as he flies to the moon and explores our galaxy with fun games and crafts.
Please remember, not every cabin or camp site is pet-friendly. Call us to make your reservation if you want to bring your pet.
Jellystone Park Pelehatchie Pet Policy
Pets are welcome in RV sites and designated pet-friendly cabins, but must be kept on leashes (max. of 6 ft in length) or inside at all times and must not be left unattended.
No excessive barking allowed.
Pets must be walked by a responsible person to pick up after them immediately.
Pets are not allowed in any Yogi on the Lake buildings.
They cannot be left outside.
Pets not allowed in or near any buildings, bathrooms, pool, splash pad, or playground areas.
They are prohibited due to health codes.
No aggressive dogs are permitted.
Pets are allowed in the Tent Sites.
Book your End-of-Summer Stay today at Jellystone Park Pelahatchie! Please call us if you want to bring your pet.