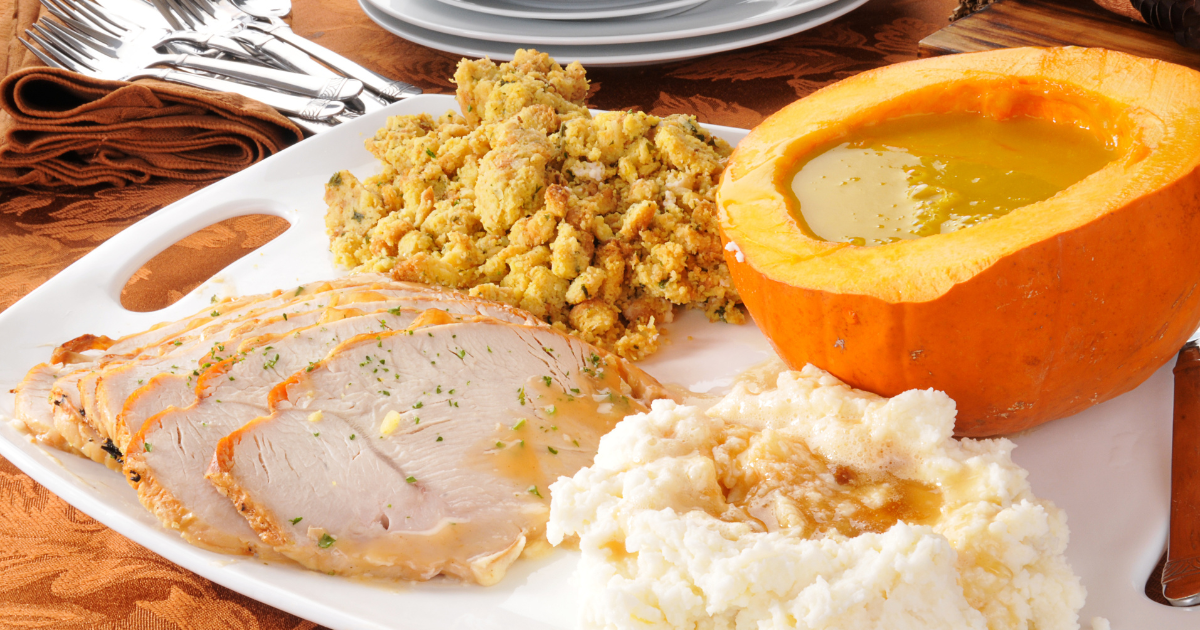 In the spirit of the season, try something new around the campfire the next time you vacation (or extend your stay through the winter) with us at Jellystone Park™ Pelahatchie. Dinner in a Pumpkin is a warm, hearty meal that brings out the delicious flavors of fall! While there are different ingredients one could throw into a pumpkin to make a mouth-watering masterpiece, we think our recipe is one you must try!
This particular meal involves a creamy soup with garlic, cheese, and bread cooked in a pumpkin with hot coals. You will need to start your campfire about an hour before cooking the pumpkin since the directions require partially covering the soup-filled fruit with hot coals instead of over a blazing fire.
Delicious Dinner In A Pumpkin Recipe
Ingredients
● (1) 3 lb pumpkin
● Salt and pepper
● 2 ¾ cups seasoned croutons
● ½ cup shredded smoked cheddar
● ½ cup shredded smoked Gouda
● 2-4 garlic cloves (to taste)
● 4 slices cooked, chopped bacon
● 1/4 cup chives
● 1 tbsp minced thyme
● 1/3 cup heavy cream
● Pinch of nutmeg
Directions
1. Just like you would a jack-o-lantern, cut the top off your 3-pound pumpkin and completely clean out the inside–seeds and strings. Then, season the inside with salt and pepper. (This is a fun step to get the kids involved. Don't let the seeds go to waste. Wash, dry, season, and roast them separately.)
2. Toss the bread, cheese, garlic, bacon, and herbs in a bowl. Then pack the mixture into the pumpkin.
3. Next, stir the cream, nutmeg, salt, and pepper in a bowl. Pour it into the pumpkin. You don't want the ingredients drowning in the cream, just nicely moistened.
4. Replace the pumpkin top. Before placing your dinner in a pumpkin in the fire pit with hot coals, double-wrap the pumpkin securely in aluminum foil. Bury the foil-wrapped pumpkin about ⅔ of the way in a mound of coals. Only ⅓ of your pumpkin should appear in the firepit. Bake the pumpkin for at least 1 hour until the pumpkin is soft.
5. Scoop out the filling and portions of cooked pumpkin to serve.
(Properly dispose of the foil and leftovers when completely cooled.)
Running Low on Firewood?
Stop by our camp store for another bundle or two so you can continue enjoying the warmth of your campfire while you savor the sweet, smooth flavors of your dinner in a pumpkin! There are so many fun and tasty meals to create over your campsite or cabin campfire and mounds of memories to add to them!
Get Your Fill of Hearty Campfire Meals & Quality Time With the Family This Fall!
Book Your November Stay Today!